Scilab is an open source and free software, which gives you the power to make everything you want on your own or with the help of the community. But sometimes you might be facing punctual needs of professional help on the use of Scilab. In that case, you can leverage our support package and enjoy the help of the experts who are building the software.
Since the Scilab Team welcomed Octave founder, we are today proud to provide the same support for Octave users.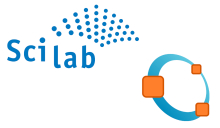 What kind of support is provided?
User Support
You want to use Scilab/Octave for a typical simulation or data analysis problem, but you don't know which function to use, or how to use it? We are here to help you find the best solution and how to set it up.
Corrective Maintenance
You want to stay on the current Scilab/Octave version, but want to have your bugs fixed? We are here to correct the associated issues.
Evolutive Maintenance
You want to have richer functionalities included in the distribution? We are here to make the specified evolutions.
How does it work?
One annual subscription for your entire company
You and your colleagues have a defined number of support hours provided on annual subscription (no automatic renewal).
A dedicated channel
We set up a dedicated channel for your whole team so that your colleagues have access to your questions and answers.
Answers
Our team can handle support requests on the fly, for reactive support. You should get an answer within two business days (opening hours from 9a.m. to 5p.m. CEST).